It was not so long ago that subscription boxes were a new, novelty thing that only those with the spare cash could afford. Nowadays, subscription boxes are more common and affordable than ever before, and there is a box for everyone.
The great thing about subscription boxes is that they can truly feel like they are personalized for you. There are subscription boxes for every hobby, habit or enjoyment in life, from boxes providing the more essential items to those that offer a means of entertainment. The best subscription boxes in Canada are incredibly popular for a reason: they know what it takes to please their customers. This review serves as an in-depth guide into the best subscription boxes available in Canada today.
30-Second Review
If you want the best subscription box in Canada, then HelloFresh is well worth checking out. With its large variety of weekly menus, add-on options, and some great seasonal produce, preparing nutritious, great-tasting meals at home has never been easier. Simply select your meals and all your ingredients are delivered directly to your door, saving you time, hassle and money.
Aside from skipping the queues down at your grocery store, HelloFresh also helps you to gain confidence cooking, as well as broadening your culinary horizons. Each meal has an easy to follow, step-by-step recipe so that you can improve your cooking skills as well as your diet. For great tasting, healthier meals, without spending hours planning, HelloFresh is the way to go. You can also use code "AFF80" to save $80 on your first HelloFresh order, which includes free shipping!
Best Subscription Boxes In Canada 2021 –
Why Buy A Subscription Box?
Treat Yourself
These days, it is very rare that we will go out of our way to treat ourselves, no matter how caring we may be to other people. The simplest way to improve your quality of life is to reward yourself with a monthly gift you can look forward to throughout the year. It is about time you thanked yourself for the hard work you put into everyday life.
Start A New Hobby
Many subscription boxes are aimed at hobbyists and offer everything you need to practice hobbies from knitting and crocheting to cooking, reading and crafting. Whether you want to make more time for a hobby you enjoy, or you want to get into a hobby you have never tried before, signing up for a subscription box is a great way to do either.
Find Unique Products
One of the reasons why subscription boxes exist is to introduce customers to new products from brands that they may not have heard of before. In some cases, these brands are small or just starting, and buying a box with their products can encourage you to support them going forward (providing you like what you see!).
Help You To Save Money
If you are a big spender in general, and you like to splash the cash on your favourite products every month, a subscription box will help you to save a whole lot of money. Many of the best subscription boxes in Canada sell at one-third or even a quarter of the retail price of all the products included in the box. While you will not be able to control exactly what goes in the box, if you usually spend lots of money on spontaneous purchases anyway, you may as well save with a subscription box.
Best Subscription Boxes Canada 2021 Reviewed
---
Save time and hassle down at the grocery store with a subscription to HelloFresh. We all know that making home-made meals from scratch is a better, more healthier way to eat – but it is also highly time-consuming. Subscribing to HelloFresh makes meal preparation at home quick and easy, saving you time, effort and money in the process.
Sign up to HelloFresh and you can choose from a large variety of weekly meals, with all the produce you need delivered directly to your door. No more grocery store queues, no more racking your brains to remember specific items, simply select the meals that you want and receive the fresh, seasonal produce that you need to make them – it is that simple.
If you are worried you will miss out on those extra sides then fear not, HelloFresh has customizable weekly plans. So, if you are throwing a dinner party for friends, or want to treat yourself to some little extras, you can just add them on. For special occasions, there is also a selection of extra Special Recipes to choose from; whether you are looking to impress a date or just want to celebrate the end of a hectic week, the choice is all yours.
What's more, when you order from HelloFresh, you gain access to their helpful cooking tips and tricks. Not only will you be able to cook along with their step-by-step recipes, but you will also learn a lot of new skills that you can benefit from when cooking other recipes. So, if you would like to cook more, but just do not think you have the ability, subscribing to HelloFresh can really boost your cooking confidence.
While the food is excellent and the standards are very high, with some excellent seasonal produce, on the downside, there is a lot of packaging, and not all of it is recyclable. However, to be fair, this is pretty much on par with most stores. If you are looking for an easier way to fresher, healthier meals at home, then HelloFresh is most definitely well worth trying out. Save money, time and effort with a HelloFresh meal box subscription for a convenient way to a healthier lifestyle.
Pros
Large variety of weekly meals
Convenient weekly deliveries
Helpful cooking tips and tricks
Fresh, high-quality ingredients
Customizable weekly plan
Cons
Individual packing is not environmentally conscious
Save $80 On Your HelloFresh Order By Using Code: AFF80
Signing up to Fabletics in Canada is a great way to receive a variety of workout and yoga outfits delivered directly to your door. Whether you are after a cute sports bra and leggings combo for yoga, or a T-shirt and shorts set that will not weigh you down running, Fabletics cater to both men and women who care about their looks when working out.
When you sign up, you will fill in some personal information that allows Fabletics Canada to send you personalized recommendations based on your size and style preferences. However, you always remain fully in control of the order process. If you are good for new sports outfits and accessories a particular month, simply log in and hit "skip" by the fifth of the month to avoid being charged.
Not only is subscription a great way to update your workout wardrobe, but it also allows you to save money on a wide variety of comfortable sports outfits, with VIP membership giving you up to 50% off all year round. If you regularly work out and like to keep your wardrobe up to date, this can save you a tremendous amount of money, and you are free to select the pieces that you prefer.
Affordable, high-quality sportswear that looks the part, we really love the selections on offer by Fabletics. The only downside is their long shipping times when ordering from Canada. However, you will find that their great designs more than make up for this, and their vast array of choices will keep you coming back for more. If you like to update your gym or yoga class outfits regularly, a Fabletics subscription is a popular, affordable way that will also renew your enthusiasm and keep you motivated.
Pros
Workout and yoga clothing for both men and women
"Skip the Month" possibility
Clothing based on your style and size
Special introductory promotions
If you are looking for an easy way to quick and nutritious home-made meals, take a look at Chefs Plate subscription services. With an emphasis firmly on quick and easy-to-cook meals, you will save time, hassle, and money down at the grocery store.
With a Chefs Plate box subscription, you can choose your weekly menu. This makes it an excellent choice for fussy individuals as you remain in control over selecting the meals that you enjoy most. It is also a great way to try out new dishes without worrying about product availability or missing certain items off your shopping list.
Besides, Chefs Plate also provides you with fantastic step-by-step recipe cards. So, even if you do not really know how to cook a particular meal, not only will you receive all the ingredients you need, you will also have the opportunity to be guided through the whole cooking process step-by-step—a great way to improve your culinary confidence and to get to grips with basic cooking skills.
On the downside, Chefs Plate customer service could do with a bit of an overhaul, with some issues being unsympathetically dealt with. However, if you are looking to make meals in taste as good as meals out, without having to waste huge chunks of your free time planning and shopping, Chefs Plate is a popular, go-to option.
Pros
Choose your weekly menu
Easy meal planning
Save time grocery shopping
Includes step-by-step recipe cards
Emphasis on quick, easy-to-cook meals
Cons
Portion size could be improved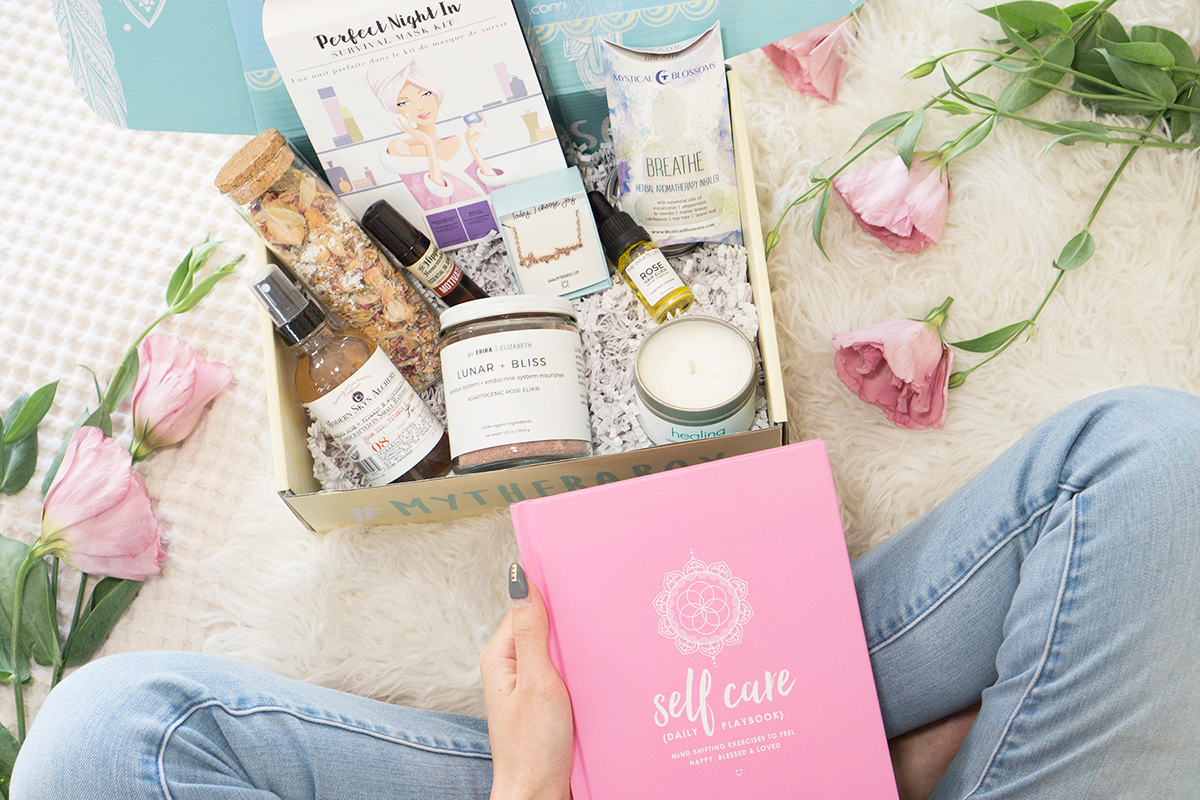 The TheraBox is a wellness and self-love subscription box that is designed for women who are looking to treat themselves with a selection of spa goodies every month. Costing as little as $30.99 a month, the box has a retail value of over $100, with the exact price varying depending on which products are included each month.
Each box contains 1 happiness activity plus between 6 and 8 self-care wellness goodies, such as aromatherapy, natural/organic bath, body, and skincare products, and other lifestyle goodies. Boxes are curated by therapists, with the aim of promoting positivity, relaxation and wellness.
Pros
Fantastic value for money
Ideal for relaxation
Contains more than 7 products at a retail price of more than $100
Cons
Some products may not be suitable for all skin types

Once Upon a Book Club is a subscription box for book lovers who want to try out new titles both inside and outside of their preferred reading genres. The box is aimed at both teenagers and adults, and you can choose to order an "Adult" or "Young Adult" box depending on your age or reading preferences.
Priced at $32.50, each box contains a surprise newly released book, as well as 3 to 5 wrapped gifts that are labelled with page numbers. As you read, the labels will direct you to open the gifts at important moments in the book, which will help bring the book to life. The box also contains read-a-long dates for live discussion, and gift opening with fellow readers, so you can order your box with your friends or your fellow book club members.

Pros
Offers newly released books
Makes it easy to discuss or review books after reading
Labels bring the book to life and make reading more special
Cons
You may be more interested in just reading the book, rather than the extras that contribute to the subscription fee

The We Craft Box is a subscription box for children aged 3 to 9 who enjoy getting creative with crafting materials. Each box features a unique theme, as well as a story about the crafts included. All the materials your children need to produce their works of art are included in the box, so you can simply open it up, lay everything out on the table, and let them get to work.
Younger children may require the help of a parent to complete some of the tasks, and the aim of the box is to encourage quality time between parents and children. Boxes are shipped on the 1st of every month, and the materials included are high-quality and provided for two craft projects per month. Pricing starts at $25.00 a month.
Pros
High-quality materials
Unique and exciting themes
Suitable for children as young as 3
Cons
Younger children may require help with projects

The Deadbolt Mystery Society is a subscription box containing all the materials you need to solve a mystery. Aimed at adults and younger children who enjoy mystery/suspense and puzzle-solving, each subscription box features a standalone story that is not connected to previous boxes, with immersive storylines and intriguing characters.
The boxes are not super-hard – they are simply designed to be a challenge, and you should be able to complete them with moderate effort by the end of each month. Some parts of the mystery are interactive, and you may need to use your smartphone or tablet to solve certain aspects of the case. The ideas for the boxes are provided by those behind the Deadbolt Escape Rooms, so you can guarantee that the mysteries are genuinely intriguing and enjoyable to solve.
Pros
A great way to encourage family bonding and mutual collaboration
Not your average subscription box
Suitable for adults as well as children
Cons
No instructions for how to play are included

The Vegancuts Beauty Box is a cruelty-free beauty box for those who are keen to make more ethical purchasing makeup and beauty product decisions. Each monthly box contains four or more deluxe and full-size beauty products by well-known and emerging manufacturers. Carefully curated by beauty experts, boxes cost as little as $22.95 per month and are vetted to ensure they are 100% vegan, cruelty-free, paraben-free, and free of harmful chemicals.
There are a range of products featured in the Vegancuts box, including lotions and balms, scrubs, gels, creams and oils. Each box has its own theme, such as "Relax & Revive", and products are linked by the problem they intend to solve. Products are generally a surprise, but you can request a sneak peak from the manufacturer if you are curious to learn about a couple of products in advance.
Pros
Vegan and cruelty-free
Products contain no chemicals, and are unlikely to cause skin reactions
Great value for money
Cons
Does not offer as many products as other boxes

MATTER is a science subscription box for adults. It contains a collection of materials, objects, specimens, and artifacts that have been carefully selected by the box's creators as some of the most interesting pieces of matter in the universe. The box is recommended for adults, but can also be used by children with supervision. It has been featured by the likes of Buzzfeed and Mental Floss, and costs as low as $25.00 per month.
Each MATTER box contains different original items that you will not be able to simply walk into a shop and purchase. Items like fossils, chips from NASA computers, and crystals are just a few of the cool things you can expect to find. Many of these make good display pieces or conversation points for those who own them.
Pros
Completely unique – you will not find the items in a store
Would make a great birthday gift
Very good value for money
Cons
Some items are lower value, and there is no choice to select what you want in advance
FabFitFun is a seasonal subscription service that delivers a personalized choice of fantastic tech, beauty, home, fashion and wellness items, four times per year. Opt for a seasonal membership, and cancel when you like, or save money with an annual version and receive automatic Select Status for added perks.
Thanks to their wide range of items, both surprise and selectable ones, receiving your FabFitFun box is a little like Christmas when you were five years old. As each box is guaranteed to contain products with a total retail value of over 200 USD, you save money each time and get to try out some fantastic new picks at a great budget price.
What's more, when you become a FabFitFun member, you will receive exclusive offers and sales, on top of your fantastic seasonal boxes. This makes it a great way to save money on the products you love, as well as a fun way to make some new discoveries. On the downside, you will have to pay shipping fees for delivery to Canada.
If you love making new discoveries and want to treat yourself, FabFitFun is a great way to do so. It also makes a great present for a friend or loved one – consider a gift card or purchase a single box to offer.
Pros
Each box is guaranteed to contain products totalling over 200 USD
Provide seasonal or annual plans
Members receive exclusive offers and sales
Customize your selection of items
Cons
Shipping fees apply to Canadian addresses

Goddess Provisions is a monthly subscription box that contains crystals, spiritual items, aromatherapy tools and natural beauty products. The boxes are designed for women who are looking to grow their spiritual practice and nurture their "inner goddess". All products included are vegan, cruelty-free and completely natural, and there are 5 to 7 items in each box.
Typically, the items that make up Goddess Provisions box cost between $80 and $100 in total. As you can select a plan as low as $27.75, this makes the box a very good value for money. You can also expect to receive items that you will not just find in everyday stores.
Pros
Vegan, cruelty-free and natural products
Great value for money
Unique items that you may not come across elsewhere

The HopeBox is a subscription box to encourage users to care for their mind, body and soul. It is designed for women who are dealing with anxiety and is carefully curated to inspire hope amongst users. Each box contains a selection of high-quality items, including books, jewellery, aromatherapy, candles, soaks and scrubs, masks, and more.
There are 3 different-sized boxes to choose from: HopeBox Light, which contains 6+ items at a $65+ retail value, HopeBox, which contains 10+ items at a retail value of $115+, and HopeChest, which contains 15+ items at a retail value of $165+. There are also hand-written mini notes included in all boxes, as well as a personal message of hope. All products are vegan, cruelty-free and full-sized.
Pros
Three box sizes to choose from
Broad selection of products
Vegan and cruelty-free
Cons
Some items may not be very useful

The Adults & Crafts Crate is a subscription box designed for adults and teenagers who enjoy crafting. It contains all the tools and equipment that are needed to create fun, on-trend products. Each month offers the materials for a different craft, so you can learn new skills as you go. You will also find detailed instructions to help you make your project to the best of your ability.
Some examples of crafts you can make with The Adults Crafts Crate are wine caddies, epoxy resin, and candles. While you could choose to craft on your own, this crate is also ideal for encouraging family bonding and quality time spent together. The boxes have been featured on the likes of Today Show, Buzzfeed, and USAToday, and starts at $30 per month in subscription.
Pros
All materials are included – no need to visit the store
Handy instructions included
Good for using alone, with friends or with family
Cons
You may not find use for the craft after producing it

Beauteque Monthly is a K-beauty box that delivers six full-sized beauty products, including skincare and body care, makeup, haircare, and beauty tools. Aimed at younger women, the box starts as low as $22 per month for a 12-month prepaid subscription. Beauteque Monthly also contains useful cards to provide information about each product and how to use it. This is particularly handy as it is unlikely that most users will have heard of many of the products before.
Each month introduces a fun new theme for the box's products, which are all full-sized (though keep in mind that even some full-sized products are fairly small). As the products are K-beauty, you will struggle to find them in Canada, which makes the concept of this subscription box pretty unique.
Pros
One of the lower-cost subscription boxes available
Hany informational cards to learn about the products
Unique products that can not be found easily in Canada
Cons
Products may not be too varied

Escape the Crate is a bi-monthly subscription box that lets you bring the escape room concept into your own home. It features a different time-travelling adventure puzzle that you can work on yourself or with friends and family to solve. The game lasts for approximately one hour and includes materials like ciphers, letters, sleuthing tools and puzzles.
Offering a challenging puzzle every two months, the Escape the Crate box is most suitable for adults and older children. Younger children may struggle to grasp the concept in some of the scenarios. You will need internet to play, as you will be prompted to enter codes online to see if you are right. Plans start at $26.50 for one box every two months.
Pros
Good family bonding activity
Variety of interactive equipment and tools
Exciting themes for each game
Cons
You only get one box every two months
The Witches Moon® is a witchcraft subscription box with different monthly themes, including healing and transformation. The contents of each box is designed to inspire and help witches to practice their craft and keep stocks of their tools. Boxes have a genuine old feel to them, which makes them more legitimate in the style they are going for. The inside and outside packaging is neat and well thought-out.
There are between 10 and 20 products in each monthly box. Items that may be included are hand-rolled candles, spells, alter items, herbs, and tarot cards. Many items are hand-crafted, and some are even exclusive to the box alone, so you will not find them anywhere else. Plans start at $45 per month, making this slightly more expensive, but there are plenty of products that make the box worth its value.
Pros
Contains exclusive, hand-crafted items
Up to 20 items in each box
Well thought-out and genuine
Cons
Pricier than similar subscription boxes

CLOTH & PAPER is a subscription box for stationery and planner lovers. There are three types of the box to choose from: the Penspiration Box, which contains 4 to 6 different types of pens and pencils (costing $16.33 and upwards), the Planner Stationery Box, which 6 to 8 planner/stationery items and lifestyle goods (costing $30 and upwards), and the Penspiration and Planner Stationery Box, containing a combination of the two (costing $40 and upwards).
The aim of the box is to help users create an organized life with pens, stationery and planning goodies. Products are unique and thoughtfully chosen – and are much higher in value than the lower-cost products you may find at a stationery store. Each item is packaged and packed carefully, and you are given the option to select your preferred planner size when signing up.
Pros
Unique and interesting products
Three subscription boxes to choose from
High-quality pens with beautiful packaging
Cons
Not much variation in products

Paletteful Packs is a monthly subscription box that features a selection of hand-picked art supplies. There are three boxes to choose from: the Premier Pack, which contains 5+ art supplies and starts at $32.30; the Petite Pack, which includes 4+ art supplies and costs $22.33 and upwards; and the Young Artist, which caters to children aged 8 and up and contains 4+ art supplies starting at $28.00 per month.
Supplies vary from month to month, and include pens, markers, sketch pads, watercolours, canvases and acrylics. The box offers a good way for artists to try out new supplies that they may otherwise have avoided, helping to nurture creativity and enable different forms of art to be produced. Note that there is no set craft project included in the box; only the supplies to use at your own free will.
Pros
Three boxes to choose from
Options for adults and older children
Good value for money
Cons
Does not come with any directions or inspiration

CoachCrate is a personal growth and life coaching subscription box for adults and young adults. The box aims to cultivate personal growth with a different theme and topic each month that will promote or challenge the user's growth in that area. Users looking to increase their happiness, peace, empowerment, wellbeing and quality of life will benefit from a monthly subscription to CoachCrate.
Each box contains a book with a reading guide that offers tips and suggestions when working through the book. Boxes also contain 2 to 4 online coaching videos, which provide a platform to connect and ask questions; additional coaching content; and products that help you relax, grow and organize your life. Pricing starts at $40.50 per month.
Pros
Offers genuinely useful products
Carefully packaged
Packed full of high-value content
What Are Some Notable Aspects To Consider Before Buying A Subscription Box?
Your Interests
Even if you want to buy a subscription box to learn or try something new, it is worth considering whether you are genuinely interested in a box's offerings before you purchase. There is very little point in subscribing to a box that seems exciting on the surface but contains products you will never actually make time to use. Go for something that appeals to you, first and foremost.
Pricing
Subscription boxes are generously priced when matched up to the total retail value of the products they contain, but that does not mean they are generously priced, period. Some boxes can exceed $100 per box, which may not be within your budget. Make sure to set a price limit before you start searching for boxes, so you are less tempted to splash out on something you can not afford.
Shipping Location
If your box is shipping from out of Canada or the US, you may need to prepare to wait longer delivery times than if you purchased more locally. There is also a more significant risk of your box becoming lost or damaged in the post. If you are prepared to wait for longer than a few days for delivery, that is fine – but there is something unappealing about receiving your May subscription box on June 3rd.
Your Ethics
Considering your ethics does not have to mean thinking deeply about why you want to buy a subscription box. But if you do happen to care about a specific issue, you will find that many of the best subscription boxes in Canada offer cruelty-free, vegan-friendly or recyclable products. The companies behind these boxes use these features as a selling point, so you will be able to find this information out easily enough.
Conclusion
There is a subscription box to suit everyone nowadays, and this review of the best subscription boxes in Canada should give you a good idea of the sorts of options that are available to you. All of the boxes mentioned in this guide are backed by a wealth of positive reviews from subscribers who have enjoyed them every month since their beginnings.